BAMBOO BIKES
Cycling is a solution for urban mobility and it is environmentally friendly

Solution
It is a solution for urban mobility.

Ecology
Environmentally Friendly.

Economy
Healthy, sustainable and economical means of transportation.

Versatility
Efficient to move around the city or in the countryside.
BICYCLE IS THE CONTEMPORARY MAN´S HORSE
It is a means of healthy, ecological, sustainable and economical transport both to move in town and on rural areas.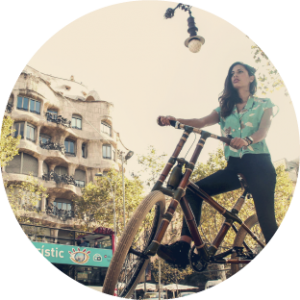 WHY PEDALING
We ride for fun.
We ride for fitness.
We ride to go from here to there, to free ourselves from daily routine and to make our world a better place through bikes.
Sometimes we ride for no reason at all.
We ride because we love how by biking a cool breeze is created in the morning and how, after a long day at work, riding a bicycle makes us feel like we just started the day.
We ride so that our children can enjoy the simple pleasure of a two wheel adventures around the neighbourhood.
We ride to make the known places new again.